Do you know what is search engine optimization (SEO)? Shortly known as SEO, Search engine optimization is a process for getting traffic from search engines like Google, Yahoo, Bing etc on a website. SEO traffic originated from search engines is free.
The results found on search engines due to SEO are called SEO results. They are also known as organic results or natural results. Using SEO techniques on your website you can get found at high ranking positions of the first page results generated by search engines. High ranking positions bring more traffic or visitors on your website. Usually, Google returns ten most relevant results on its first page for a search keyword. Read our article How To Do SEO in 5 Essential Ways Before Other Strategies.
In a report, it is said that the topmost result alone out of the ten results receives 42% clicks. The remaining others receive lower click through rate according to their ranking positions. Higher the rank, more the click through rate! Try to achieve the top search engine ranking and fetch more traffic and more conversion using SEO techniques. Read an article How to Increase Google Page Rank fast with SEO.
Getting high page ranking needs to follow the Webmaster Guidelines of the search engines. Before starting SEO processes on a website, you should check the guidelines of major search engines. Google, Bing and Yahoo are the most used search engines in the world. So, you should read their guidelines from the following links:
If you are a beginner, the guidelines are essential for you. If you are a SEO expert, you should keep them in mind while you working site optimization. Because they are the rules you should follow and the things telling you can't ignore. If you don't know it, you can't achieve the desired site ranking on search engines. If you go beyond the guidelines, your site will face penalties. Read this article Penguin proof SEO to Safeguard Google Penalties.
So, you can't be a perfect SEO without the guidelines. Search engine optimization is now a complicated subject. For acquiring the perfect knowledge of SEO, you need to attend in-depth training programmes, practices and seminars with resource persons and marketers for an extensive period of time. A perfect SEO knowledge doesn't come in an overnight.
But, if you own a small site and need SEO, you can do it for your site. You should read good books, tutorials and watch constantly what's changing in the SEO world. On the other hand, if you run a large business site and want to make money with your site, it is better to hire a reputed SEO company. There are plenty of SEO service providers around you to suit your marketing budget.
Now, let's see how SEO (more importantly for Google) works. Google uses over 200 factors for page ranking distribution. For improving Google ranking and traffic, we may consider the two forms of SEO:
1. On-Page SEO, and
2. Off-Page SEO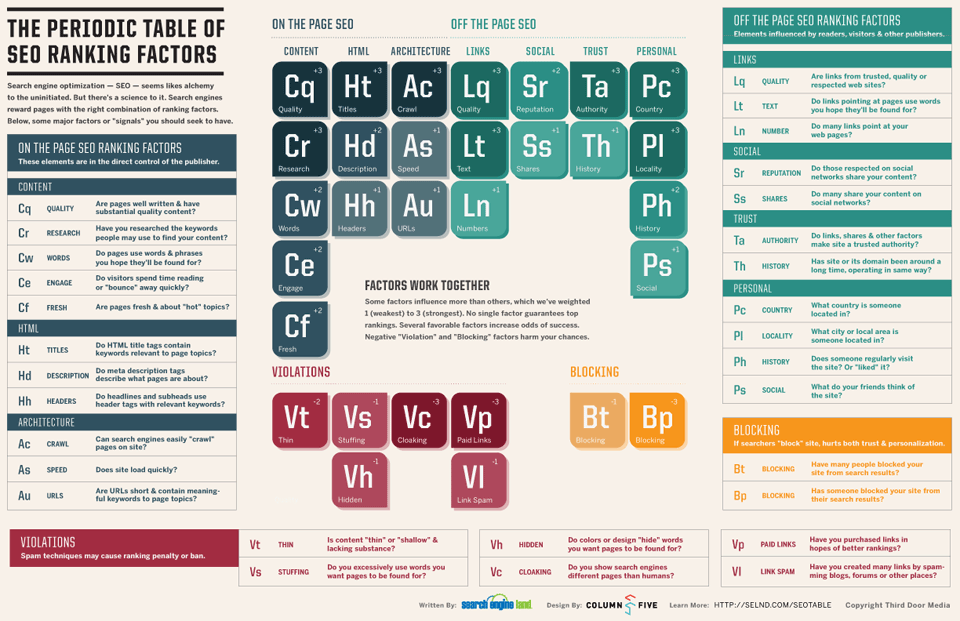 On Page SEO:
It may be also known as On-site SEO. Everything you do to optimize your site and pages is called On-Page SEO. It includes making good page title, page description, page content, site navigation, image optimization, interlinking of pages etc. It also includes keyword research. Keyword research can be done before making a new website or for an existing website. Good keywords should have the characteristics of relevance to the niche, good traffic volume, low competition and high conversion.
The most important keyword found from the research should be the theme keyword of the website. Home page should be focussed on the keyword. Other relevant keywords are to be used in category pages.
Content is king. You should have high quality content in your pages. Original and superior content get high page rankings on search engines. Your pages should be themed on a single keyword or two. Site structure should be in logical manner. All relevant pages should be interconnected through hyperlinks using relevant keywords. The page urls can be included the top keyword of the pages. If reasonable, you can put links to other sites in your pages. Good looking websites attract customers. Websites with great contents, quality inbound and outbound links get high SERP rankings.
Off Page SEO:
For acquiring high search engine ranking, you should improve your site's popularity and brand across the web. SEO done outside your website is known as Off Page SEO. Frequent mentions in other sites and links back to your site are important to increase Google page rank and traffic. Social signals in the social media platforms like Facebook, Tweeter, Google+ and LinkedIn gets backlinks and traffic. Marketing done on these social media sites are called Social Media Marketing. If you need instant sales or promotions for your products or services, you can do it through Google AdWords campaigns. Such marketing done on search engines is called Search Engine Marketing. Participating on forum sites as a part of link building campaigns is also imperative.
Building a blog on the website and email marketing help getting more traffic. There are several other ways to get traffic. In short, the amount of brand popularity of your website across the web also determines site ranking and traffic volume.
If you don't have enough traffic, you can't get success with your site. On the other hand, a website hitting too much irrelevant traffic can even lead to make the server down. So, the main objective of search engine optimization is to obtain high SERP rankings and real converting traffic to get done what you want from the visitors.
That is the brief description about what is search engine optimization. Learning SEO is learning a skill. If you have mistakes, you'll face search engine penalties. Your site will disappear from Google and search engine results. Even you may get banned. So, learn great lessons from SEO experts. In the following, I have listed some best books and tutorials on the subject. Read the books and get the desired rankings and targeted traffic without getting any penalties:
• Top 10 SEO books
• Best Link Building Books
• Best WordPress SEO Books
• Top Social Media Books
• Best Internet Marketing Books
• Best Email Marketing Books
• Best Google AdWords Books
• Best Web Traffic Books
• SEO Video Tutorials & Training Courses
While you are doing SEO and link building campaigns, you can use software tools to save time and accelerate your work. These tools can do the task in hand quickly and effectively without any mistake. If you are interested in these tools, click on the following links:
• Best SEO Software
• On Page SEO Software
One thing you should always keep in mind is SEO strategies keep changing as search engine algorithm changes. A technique that worked last year may not work this year. So, read the above books or use the SEO software to get the best secrets from experts. Also subscribe our free SEO articles to update your SEO skills. Enter your email ID in the specified box found in this page and subscribe.
Articles you might be interested to read:
• SEO for 2014 – Things You should Know and Do for Your Website
• 5 Mistakes in Link Building That Invite Google Penalties
• Guest Posting in Link Building Strategies
• A Guideline to Directory Submission
• 18 SEO Tips for WordPress to Enhance Search Engine Visibility
• How to Increase Your Google AdWords CTR
• Google Hummingbird Update – The Insights of the New Algorithm
• Google Penguin 2.1 Update – The Impact and Solution
• Penguin proof SEO to Safeguard Google Penalties
 – By NIGCWORLD Jobs