There are thousands of SEO books and tutorials available on the web. But, you might be confused in choosing which books especially for WordPress are best to read. You should be cautious while buying such a book, because outdated and ineffective SEO books (esp. free ones available online) may even misguide you and harm your website. Buy the best, up-to-date books written by renowned SEO specialists and well known marketing professionals to avoid of hurtful SEO mistakes. Below are the best books focused on WordPress SEO as we know so far; they are highly recommended by many webmasters and readers as you might find them somewhere on the web.
Check these top WordPress SEO books for the year 2017. Click on the book title for further details, reviews and buying options. Read some of them and enjoy the success with your website. You are most welcome to leave your valuable comments here about a book you read from the following list.
1. WordPress SEO 2017: Optimize your WordPress Site for Better Rankings! (Webmaster Series) (Volume 4) Paperback
by Dr. Andy Williams
This book is the latest edition from Andy Williams written on WordPress SEO. The book will teach you to make your WordPress site search engine friendly. You'll learn about choosing a good host, avoiding duplicate content, using Google Webmaster Tools, using essential plugins, creating a good navigation system, setting up home page, content checklist and many more. A must-read book!
by Dr. Andy Williams
I have read many books and tutorials on search engine optimization from Dr. Andy. His points on SEO are clear, positive and interesting. After reading his book, you can distinguish what's wrong and what's right to do. This book is based on On-Page SEO for WordPress sites and blogs. According to him, WordPress doesn't do any SEO favors itself. You need to do yourself. You need to look into the possible errors of duplicate contents in your site. You need to correct site-wide links and footers, meta tags, page speed, issues with WordPress themes, ill-designed homepage, poorly constructed navigation, comment spams etc. This book is designed to create a SEO-friendly WordPress site by finding the problems and fixing them. After implementing his advices, your site or blog will start appearing at higher Google positions without getting any problems of Google Panda and Penguin penalties. An indispensable Google SEO guide book you can't miss!
by Karen M. Callahan
This is my other recommendation of WordPress SEO books. Add SEO to your WordPress blog from the instructions of this book and fly high. The author teaches you using an internal SEO technique to rank high in search engine result pages (SERPs). From this book, you'll learn how to push your blog rankings up to the top organic positions of search engines by utilizing his internal SEO techniques.
A reader of the book says, "The author's depth of knowledge and thorough job of explication make the book a bargain for anyone creating content in the WordPress environment – highly recommended."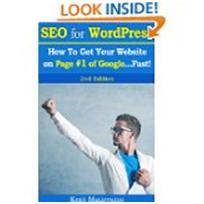 4. SEO for WordPress: How To Get Your Website on Page #1 of Google…Fast! [2nd Edition]
by Kent Mauresmo and Anastasiya Petrova
This book is well known and very cheap to buy. When I read the book, I found very effective SEO techniques. Read and see what the authors reveals their marketing secrets.
One of the readers says, "I was surprised to see that there is a new edition of seo for wordpress. Just upon seeing Kent's name I bought the kindle ebook. I was benefited by last edition of his ebook. Getting targeted leads each month from few of my wordpress websites after implementing his recommendations…"
5. WordPress for Beginners & WordPress SEO (Paperback)
By Dr. Andy Williams
As far as I know, Andy Williams is one of the top SEO writers. I read most of his books on search engine optimization. His teaching on SEO is excellent. Read this book. It looks simple. You'll learn valued lessons on WordPress setup and optimizing your WordPress site for better search engine positions. The book will be useful even to those advanced webmasters as a refresher course. A must read!.
6. WordPress SEO Success: Search Engine Optimization for Your WordPress Website or Blog (Paperback)
By Jake Aull
Whether you manage a large-scale site or a personal blog, the author will help you integrate effective SEO techniques in your strategies. You'll also learn tips on how to improve your existing content for high Google rankings. This book is one of the hot selling books in Amazon. One of the readers say:
"I have read several other books on SEO that were good. This book is great. It presents an up to date easy to use strategy that effectively weaves together SEO, both organic (free SEO) and paid ads (Adwords) along with social media, and more. When I first looked at this book, I randomly opened to a few different pages and each page has nuggets of information that will immediately help improve my website traffic and get people motivated to do business with me. Thank you Mr. Aull for this great immediately useful information."
7. WordPress SEO: Learn How to Rank Your Website or Blog the Simple Way (Volume 1) Paperback
by Terence Lawfield
The author reveals his secrets for WordPress SEO in this book. According to Terence, it is easier to get ranked in SERPs leaving behind other honest webmasters. In this book, you'll learn advanced keyword research and analysis, guest posting, social networking, forums, blog marketing and more.
A reader says, "After reading this book, I aimlessly turned to some pages and every page contains chunk of explanation that can quickly help me expand my website traffic and obtain followers who are inspired to carry out business with me. What a big help."
8. WordPress Search Engine Optimization, 2nd Edition Paperback
by Michael David
This book is a complete book on WordPress SEO with real world examples to get top positions in search engines like Google, Bing and Yahoo. You'll learn SEO ranking elements, social media, keyword research, building high quality links, creating great content for search engines and readers, and common SEO mistakes you should avoid specially for WordPress sites.
A reader says, "I read this book in about 2 days and got a lot of good information from it, but will keep it around for reference as I learn more. I run a mommy blog on wordpress that reviews a lot of home products, baby products, family videos, etc. I found this book to be easy to read and packed with information. It's almost 350 pages and it's very dense. It covers pretty much everything I could ever think of…"
9. SEO for WordPress: "How I Hit Page #1 of Google In 27 days!" Paperback
by Kent Mauresmo & Anastasiya Petrova
This new, affordable Book is one of the best seller on WordPress search engine optimization. A quick guide to achieve top Google positions for you! In this eBook, you'll learn advanced keyword research and analysis, WordPress optimization, using WordPress, categories, permalinks and tags correctly, post paragraph structures, keyword density, optimizing images, plugin settings, on-page and off-page SEO tactics, RSS feeds for boosting rankings, piggyback authority sites for competitive keyword rankings, Youtube tips and more. A good book for those who want to boost traffic, sales and leads on their WordPress websites!
I have listed the 9 best WordPress SEO books as I know, also recommended by many webmasters and readers. What is the 10th best book from your opinion? Click on the following link that leads you to the best selling WordPress SEO books and tell me the best book in the comment box below:
Best selling WordPress SEO books
See also Top 10 best SEO Books
– NIGCWORLD Jobs
Summary
Article Name
10 Best Books on WordPress SEO for 2016
Description
These are the best books on WordPress SEO as far as we know; they are highly recommended by many webmasters and readers you may find somewhere on the web.
Author