Keyword research is a must for anyone who undergoes SEO strategies. Read these 7 keyword research tips which will be very useful while you are looking for good keywords for your website. Keyword research is a hard, time consuming task. Beginners are often confused how to do keyword research with keyword tools. Finding the working keywords is really a challenge. But keeping in mind the valuable tips below will guide you to set up an effective keyword research strategy: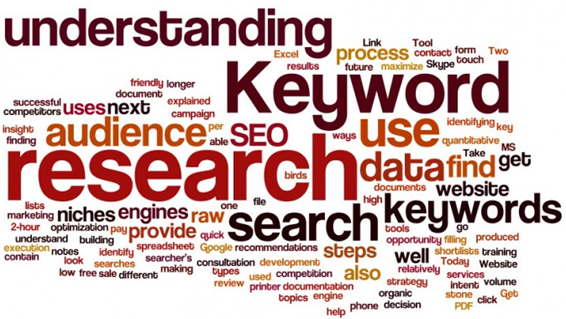 1. Know Your Audience Correctly
Your business should have an audience. You need to understand how people search in Google a business like yours. Know the terms or phrases they use through keyword research. Every business has the language of its own. Try to get all your niche keyword phrases people are typing in Google. Also note that your audience may change their focus in Google searches. Look for new keywords they use and add them in your keyword list. So, getting the keywords currently used by your target audience is the No. 1 keyword research tip for you.
2. Look for Long Tail Keywords
Competitive keywords are hard to rank. You shouldn't try to rank them if your website or business is a new one. Instead, research to get long tail keywords. For example, head keywords such as 'Fiction Books' are highly competitive and very hard to get ranking. So, look for more specific long tail keywords like 'Fiction books by top authors in USA'. After some time, check the rankings of your long tail keywords in Google SERPs. If they are successful, you can target competitive keywords to rank. Hence, knowing your long tail keywords relevant to your niche is an important keyword research tip to improve your SEO performance.
3. Look for Exact Keywords
Focus on the exact keywords your customers use. It's pointless to target the keywords people don't search in search engines. It's waste of time and effort. You won't get any traffic if you focus on any keyword people don't use. Do extensive research to find the keywords that match your products or business.
4. Focus on the Correct or Common Form of Keywords
Let's see an example. Perform two searches in Google using 'SEO book' and 'SEO books'. What do the two keywords mean to Google? They are different, so Google gives the results differently. Usually, people who are looking for books on search engine optimization use 'SEO books' instead of 'SEO book'. The use of singular or plural keyword depends on the keyword type. Focus on the true keyword mostly used by people. Don't focus on unrealistic keywords in your keyword research.
5. Find Long Tail Keywords with Traffic
Long tail keywords are less competitive and easy to rank in Google. They can fetch buying customers to your site. But as they are specific keywords, those keywords are usually less traffic. If they are too specific, they will bring very few traffic or nothing at all. Hence, consider to find long tail keywords with more traffic. It will help to boost your SEO.
6. Check Your Keyword Rankings Regularly
You shouldn't always remain targeting long tail keywords. Because, they are low traffic even though they have good conversion. You need more visitors to improve your SEO performance as well as your business growth. For getting huge traffic, you should find competitive keywords with high traffic volume. But before doing that, check if your pages are found using your long tail keywords in Google. Are they found at high Google positions above competitors? If yes, you can focus on high traffic and competitive keywords. Check your keyword rankings regularly to know whether you need to target competitive keywords or you still need to work with long tail keywords. It is a very important keyword research tip you should keep in your mind.
7. Focus on More Than One Keyword
A webpage should focus on a single keyword. But you can do it with two keywords for getting more traffic from search engines. For instance, when the page focuses on a keyword 'A', it gets 3000 monthly visitors. But if your page focuses on two keywords 'A' and 'B', it gets 5000 monthly hits. So, it is sometimes better to use two keywords for a single page. Look for a second relevant keyword in the keyword research.
The above keyword research tips should include in your keyword strategy. Even though they are not advanced things, many SEO campaigners usually forget to do. If the above tips are found useful to you, share this article to your friends and colleagues. Or please leave your valuable comment below.
View best-selling keyword research books
View best free keyword research tools, Click Here
– NIGCWORLD Jobs
Summary
Article Name
7 Keyword Research Tips for Effective SEO Strategies
Description
Keyword research is a must for anyone who undergoes SEO strategies. Read these 7 keyword research tips which will be very useful while you are looking for good keywords for your website
Author