Recently I did this. I migrated my WordPress site to a new host. I did this because of that last host's irritating issues like slow page loading, frequent site down, database issues, too old server software etc. When I discussed the issues with the hosting provider, they recommended to upgrade to their costlier hosting plan. But I couldn't take their recommendation due to the budget limitation for my business type. If you are one like me, you too can change your current host to a new one on an affordable budget you can spend. There are many hosting companies offering the best prices and features to suit your needs. You don't need to stay there if you are not satisfied with the services of your current hosting company. This article is in rescue for you explaining how to migrate a WordPress site to a new host or server easily and quickly. This also applies to move a WordPress site to a new hosting plan of your current, same hosting provider.
If your website is a simple HTML site, migrating your site is so easy. Download all your site pages/files from the old server, and upload all those files to the new server. Then, point your domain to the new hosting server if you want to use the existing domain. That's it.
But for database driven WordPress sites, moving a site is a bit difficult. You need to complete the steps:
1. Move all your site files found.
2. Move the WordPress database.
3. Point your domain to the new host.
4. Fix wrong URLs.
In SEO perspectives, the new site should look like the same of your old site. The site look, URL structure and links all should be same. In short, visitors and search engines should not notice that you have migrated your site to a new host. If not, your site will look like a new one in the eyes of Google and other search engines. Your previous SERP rankings may be lost. So, you don't have to buy a new domain, instead use the existing domain when you buy a new hosting plan. In this tutorial, I'll teach you step-by-step how to migrate your WordPress site. You can do it without anyone's assistance.
In those days when I wanted to migrate my website, I was perplexed and helpless. I was looking for a working tutorial or guide almost everywhere. But the serious problem to me was moving the WordPress database to the new host. Luckily, I came across a plugin called All-in-One WP Migration. With this free WordPress plugin, I could migrate my site easy and fast without any assistance from others. Many, many thanks to the plugin developer! Below, I'll tell you the exact steps I did to move a site even without interrupting the visitors and affecting search engine rankings. The processes require no previous skills, no person to hire or nothing to pay for anything. You can do it yourself and complete it in a short time (probably within half an hour).
Step 1: Buy a New Hosting Plan
You need to buy a hosting plan from a trusted hosting company to move your old site. For me, Bluehost and Godaddy are the best ones to choose. You should look into the features of their hosting plans. In my experience, Linux platform is better over Windows platform for WordPress. If your traffic volume is moderate, a shared hosting plan is enough. But make sure the hosting plan is scalable so that you can upgrade RAM, storage and other system configurations when you need in future. If your site traffic is comparatively high, a VPS plan is recommended so that your site run smoothly without issues. Choosing the server location is also important. If local customers are more important to you, choose your country server. Choosing the best hosting plan for you really depends on your business type, traffic volume, CMS and budget you can spend. After purchasing a hosting plan, you'll get all the information like Nameservers, Control Panel details, FTP details etc. You should save it in a document and keep it safely for future uses.
Step 2: Install WordPress
Install WordPress on your new host. the Control Panel of most modern hosting plans comes with the auto-install feature of WordPress. Check if this feature is found by logging in to your new hosting Control Panel. If found, install WordPress using that feature. If unsure, contact the support team of customer services. If not found, you have to install it manually. Click Here if you need to install WordPress manually. Remember that, if you installed WordPress in a separate directory (e.g. www.xyz.com/wp) in the old host, you should install WordPress in the same directory name also in the new hosting server. Note the login username and password of WordPress for future use.
Step 3: Move Your Website
Login to the WordPress Dashboard of your old site. On the left sidebar, bring your mouse pointer on Plugins and click on Add New from the menu. Then, search the plugin All-in-One WP Migration. Install the plugin and activate.
Now, find All-in-One WP Migration on the left sidebar. Bring your mouse on it and click 'Export' from the menu. Then, click 'Export to' and select 'File'.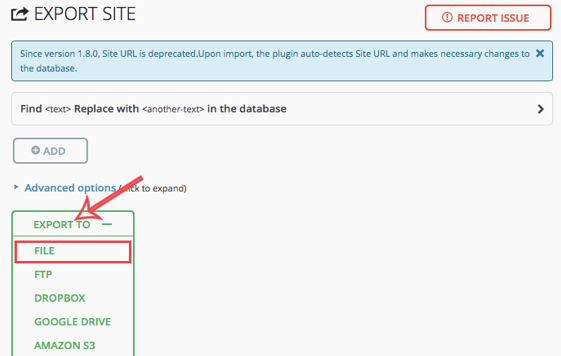 Now, download the site to a folder on your desktop.
Wait for the download to complete. The plugin will download a file including all WordPress files and database. The downloaded file comes with an extension .wpress. But the action will not download any other pages and files, if any. If you have any other remaining pages and files other than WordPress files, you should download them too using an FTP client like FileZilla into the folder.
Now, login to the WordPress Dashboard of your new host using the username and password. Note that you are currently using a temporary URL given by the hosting provider since you didn't buy a new domain. Like you did earlier, install All-in-One WP Migration and activate the plugin. Find the plugin and click 'Import'. Then, drag the file with .wpress extension from your desktop folder to the Drag and Drop window to start importing.
Wait for the import till finished. Then, click 'Continue' anyway without the worry of overwritten.
After a window pops up to confirm the import has been successful, close the window.

Now, log out and login again.The moved WordPress still have the same username and password as you used in the old host. So, when you login to it, your browser may bring you to your old host. If you face this issue, login to your new hosting control panel and click on PHPMyAdmin. Click on the database used by WordPress. From the list of database tables, click wp_options. Then, find a line as in the following image and click on 'Edit'. Replace the URL with your temporary URL. Then, click 'Go' button to save.
As in the above, you should also replace the URL with the temporary URL in wp_home. Then, click 'Go'.

Now, you will be able to login to the WordPress Dashboard. If you forget your password, click on 'Forgot Password?. After logged in, bring your mouse on Settings and click on Permalinks. Without changing anything, click 'Save Changes'. Now, Open FileZilla and head to the server using the FTP details given by your new hosting provider and upload all the remaining files (if any) to Public_HTML folder (where WordPress was installed). Delete the default homepage file found in the server and replace it with your own, if any.
Step 4: Map Your Domain
Your domain is still pointing to your old host. You have to point it to the new host. This can be done by updating nameservers. Get the nameservers given by your new host. Now, login the member's panel of your existing domain registrar and update the nameservers with your new ones. The way of updating nameservers may be different from a registrar to another. But below is what I did with my domain registrar. After logging in your member's panel, click on the domain name and you'll see the page something like as below:

Then, replace the old name servers with your new ones. Click 'Save'. It will take few hours for the domain to map to the new host automatically. However, it won't interrupt visitors. If you want to know if the domain has been mapped to the new host after a few hours, visit www.whoisresult.com, enter your domain and look around if you see the new name servers you updated. If you have any issue in updating the nameservers, get help from your domain registrar. Meanwhile, you can continue the following step.
Step 5. Update Links in Bulk
Remember that you have been using a temporary URL on the new host. If so, it should be removed. Login to your new hosting control panel. Open Domain Alias and delete the temporary URL. Then, go to your WordPress Dashboard, click General under Settings, then make sure WordPress Address (URL) and Site Address (URL) are correct and save changes.
Visit some posts and pages of your WordPress site. Check the link texts in the web pages if they have the temporary URL. If so, WordPress did it when importing the site. You need to correct the links with correct URLs. But manually doing it will be a very hard work to you. So, install Better Search and Replace plugin and activate it. Then, open it from under Tools menu.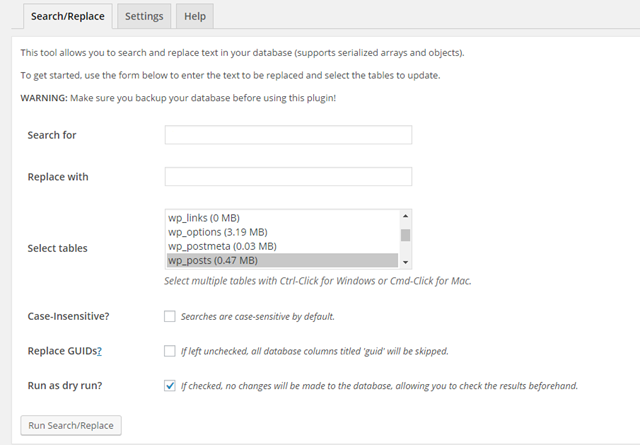 In 'Search for' box, enter the temporary URL and in 'Replace with' box, enter the correct URL (i.e. www.xyz.com). Then, in 'Select tables' menu, select wp_posts. Click 'Run Search/Replace'. You'll see a number of links to be replaced. Now uncheck 'Run as dry run' and do it again. The plugin will replace all temporary URL found in your website with the correct domain URL immediately.
But there might have left some links to be corrected somewhere you don't know. For this, install a plugin called Broken Link Checker. This plugin can search and report any broken links found in the whole site automatically. After activating the plugin, allow it crawl your site. Next day, open it from under Tools menu and look for any broken links. You can update broken links with correct URLs one by one manually.
That's all.
After completing the above steps, your site runs smoothly on your new host. Keep the files and database on the old host for a few days to wait for any error or mistakes that you may come across in your new migrated site. When you are sure there is nothing wrong after some days, request your hosting provider to delete or deactivate the old hosting plan.
Your WordPress site is now up and running smoothly. And you need to drive more traffic and make more revenues. To increase success with your WordPress site, you need to boost your SEO campaigns. Click on the following links to view recommended books:
If you have any comment and question after reading this page, leave it to the following comment box. If you are happy with this article, share this page to your social media friends.
Summary
Article Name
How to Migrate a WordPress Site to a New Host or Server Easily
Description
This article is in rescue for you explaining how to migrate a WordPress site to a new host or server easily and quickly. This also applies to move a WordPress site to a new hosting plan of your current, same hosting provider.
Author