How to do SEO is your first question when you want traffic and sales on your website or WordPress blog. If you want to increase your site visibility on Google search results, you should follow the Google's Webmaster Guidelines. Google Engineer Matt Cutts discloses the 5 most important things you should consider about doing search engine optimization before anything else. The following are the 5 essential SEO tips: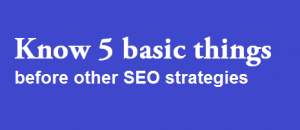 1. Make your website crawlable by Google spiders
If your web pages or blog posts can't be crawled by Google spiders, Google can't index and show your website in its results. Put your links in logical manners so that Google bots can index your pages easily. Try browsing your pages from home page and make sure they are easily reachable.
 You can fix it easily. Type your website domain name (i.e www.example.com) in the Google search box. When you see your website in the results, click on the 'Cached' next to your site url. Then, click on 'Text Only Version' and check by browsing all your pages.
 2. Use keywords on your page that people are using on Google
People won't find your website in Google search results if you don't include the keywords or terms used by people on your web pages.
 You don't need to use the exact words of the page topic but describe it and include the right words or phrases people might use when people search on Google.
 3. Don't concentrate too much on Link Building
The idea of link building or inbound marketing is good. But you don't need to focus on it. Instead, you should write superior quality contents and make your website a well known one. Make your website standout in your niche without considering about Google rankings.
 A quality website ranks itself. Pay a reason people should visit your website. If your website has great contents and updates, people will revisit frequently. Content is king.
 4. Write compelling Titles and Descriptions
Write compelling titles and descriptions for your home page and other important pages in your website. When Google users scan the search results, they will click on the result having more relevant and attractive title and description.
 Try different descriptions to entice Google users. A good description or search snippet will get more clicks or visitors to your website.
 5. Use Google Webmaster Resources
If you want high ranking positions in Google search results, use Google Webmaster resources. It includes Webmaster Tools, forums, web developers' articles, and blogs. In addition to Google resources, you should also use the webmaster resources of Bing, Yahoo and other search engines in your SEO efforts.
 See more useful Google resources. Click Here for more Google SEO Resources.
Google Search Engine Optimization Starter Guide: Click Here
 Higher rankings in SEO results mean more visitors and sales on your website. For Successful SEO campaigns or career, one needs dedicated learning from several SEO books, SEO guides, tools, certification trainings, video tutorials and seminars with professional SEO specialists and internet marketing gurus. You will also learn search engine marketing (SEM) and Pay-per-Click (PPC) marketing. The PPC ad management is generally done through Google AdWords advertising program. Social media marketing (SMM) at Facebook, Twitter, Google Plus, LinkedIn, Youtube etc becomes essential in the SEO industry.
 If you are half experienced, you may take years to get the desired SEO results. If your objective is just making money from your website, it is better to look for top SEO companies or seasoned experts to save your time and money. They provide strategic services for the targeted position. They will charge you for the services but it'll improve page rank and drive traffic or customers to your website. Watch your website performance paced up. Now, there is also available SEO software with cutting edge technology. You can do SEO fast online with these advanced SEO programs.
 If you hire a SEO service provider, trained SEO professionals will do all for you with effective techniques. If you are looking for a low cost SEO package for your online business solutions.
Click Here.
– By NIGCWORLD Jobs
MYGUQCZN3HSF